The human romance with diamonds dates back to the time of Mughal kings and queens in India. The highlight arose in the 16th century with the discovery and cutting of the Kohinoor, the largest diamond in the world. At that time diamonds were exclusively worn only by royals. Certainly, as time and technology progressed, diamonds have become an everyday symbol of love and eternity. Choosing a diamond can be a tedious task, with 11 diamond colours, 11 diamond clarities, different cuts, and much more. A simple way to choose the correct diamond for you is by asking yourself a few questions. Let us help you find your diamond with our diamond guide.
QUESTIONS:
Budget: What's your budget? How can you maximize it?
What's your style?
What's the right clarity, color, shape, and size for you?
BUDGET
There are a few points to consider when optimizing your diamond budget. You can maximize your diamond budget with the following points:
Choose the Right Diamond Cut

Like fashion, diamonds can come into fashion and go out of fashion. Hence, the prices do fluctuate. If you aren't particular about your diamond cut, we can help you choose the diamond shape to maximize your budget.
If you are particular about the cut, we split our cuts into brilliant cuts (round, oval, princess, pear, marquis and cushion) and step cuts (emerald, asscher, and baguette). The first step is choosing which of the families you prefer; do you like something more romantic or art deco, answering this question will lead you do the family. After that, it's a personal choice.

Choose the Right Colour

Each diamond cut reflects colour differently. We always suggest at least a minimum colour per stone shape. If you go for a fancy stone, we always suggest a better colour, if you go for a round, we suggest at least an I colour up to the size 0.3ct, which is considered white! For bigger Diamonds, we recommend increasing that quality.

Choose the Right Clarity

Once you have chosen the right cut and your colour, clarity is the last step to choose for your diamond. When it comes to clarity we suggest to go I2 and up. Our standard quality, is SI2, as that quality is the optimal quality between price and look.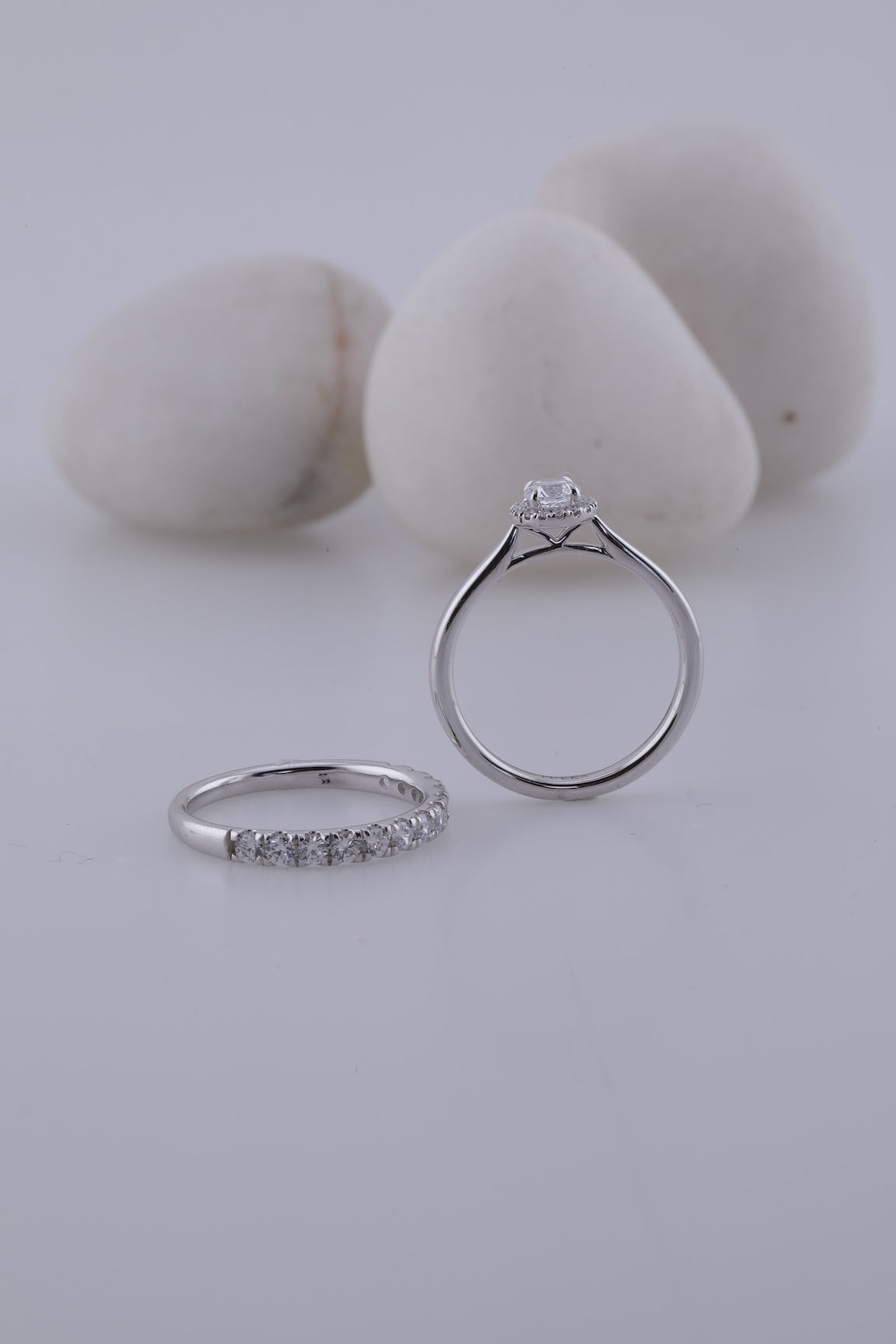 Each diamond cut reflects light differently. We recommend a minimum quality of diamond depending on the shape of the stone. If you choose a fancy diamond, we suggest a better color. If you choose a round diamond, we suggest at least an I color classification up to a size of 0.30ct, which is still considered white and perceived that way to the naked eye. For larger diamonds, we recommend increasing this grade.
Choose the right clarity of diamond
Once you've decided on the right cut and color, clarity is the final step in choosing your diamond. When it comes to clarity, we suggest going I2 and above. Our standard grade is SI2, as this grade grants the optimal balance between quality and price.
For more information on diamond quality grades, see the text below or our diamond guide.
STYLE
Your personal style is a huge determinant for choosing a Diamond you will buy. Most people wear their ring daily, so we believe it should fit, talk, and merge with who you are. Points to consider are your finger shape, your taint, how much work you do with your hands, your character in terms of outgoing or not, and many more factors. Since your personal style is something very unique and genuine, we would recommend a
personal consultation
with us to help you out. Our experts will guide you along the process.
THE 4C'S: CARAT, CLARITY, COLOUR, CUT
While choosing a diamond, the 4Cs of the diamond will play a major role in your decision. So what are these 4Cs? The classification of diamonds has been divided; cut, clarity, colour and carat. These components directly influence the brilliance, purity, whiteness and weight (size) of the diamonds. Check out our
Diamond Guide
for detailed information and tables on the 4C's.
Cut
The cut of the diamond directly affects the optical properties of the diamond. The diamond cut itself is evaluated based on 7 variables: Brightness, Fire, Brilliance of Motion (Scintillation), Weight Ratio, Durability, Polish, and Symmetry. Of these variables, brightness, polish and symmetry are the most important. Depending on the performance of these variables, the cut grade of diamonds can vary from Excellent to Poor. Our standard diamond cut at Pukka Berlin for our Fine line jewelry is always at least Good. As always, contact us for custom quotes at no extra charge.
Clarity
The clarity of the diamond refers to the purity of the diamond, Essentially how clean the diamond is from the inside. Diamond clarity grades range from IF (flawless on the inside) to I3 (FL, IF, VVS1, VVS2, VS1, VS2, SI1, SI2, SI3, I1, I2, I3). At Pukka, our standard diamond clarity is SI2. We believe this is the optimal balanced quality between price and clarity of the diamond.
Carat
Carat is the weight or indirectly the size of the diamond. Carat has a direct impact on how big the diamond looks on your finger. The most common size for engagement rings in Europe is 0.30 carat diamonds, and in the US, 1.00 carat diamonds. Feel free to contact our diamond experts who can guide you in the right direction in finding the perfect diamond for you or your partner.
Colour
The color indicates the whiteness of the diamond. The diamond colors start at D and go to Z. The colors D,E,F,G,H,I are considered white here. At Pukka Berlin, our standard color in our Bridal line is G/H, which is white to the naked eye. The white tends to add to the brilliance of the diamond and the clarity.
THE SETTING
When you are looking for an engagement ring, once you have finalized your center stone, the next step is the setting. The setting is what accentuates your center stone and gives the look to the whole piece. While choosing the setting we encourage you to go for a timeless design or a design that fits your personality, as this is something that you will end up wearing daily. To better choose your setting, we have an ideal assortment of classic settings in-store, or we can help your customize your own. All you need to do is explain to us a place, emotion, or concept and we will do the rest.
ALWAYS ASK FOR THE 4C'S
We encourage you to always ask for the diamond quality when buying a stone. Sometimes you might find that jewelry pieces are similar in style, but have enormous price differences. Often this is due to a different gold material used (more in our
material guide
) or the differences in the stone quality. You'll explore that sometimes that information is hidden, especially when the diamonds are of lower quality. Finally, if you are looking for a GIA, IGI, or an asset quality stone, do not hesitate to
contact
us. We have our diamond experts who can guide you through the consultation.
EXCITED FOR MORE?
SIMILAR ARTICLES